Our company is founded in 1945, but our story begins a few years before when the brothers Pedro and Rafael Blasco start working as apprentices in a small upholstery workshop in the town of Pozuelo de Alarcón in the Northwest of Madrid. Some years later they founded their own company and over time Blasco has become a benchmark in the world of decoration, chosen by the most prestigious decorators and interior designers in Europe for the beauty, simplicity, quality and comfort of their upholstered furniture .
Pozuelo de Alarcón,

Madrid
Pozuelo has been a summer destination for the high bourgeoisie of Madrid since the early nineteenth century, because they said that in this municipality they found olmedas and pine groves, and above all, clear waters, which they said, possessed great medicinal qualities. As stated in the chronicles of the time, in Pozuelo, they spent the summer "the choicest and most pleasant of the Court" where summer houses and single-family houses, known as "hotels" were built. This people were demanding clients that require the best artisans, and as a result, workshops with the most exquisite artisans from all over Spain were established in Pozuelo.
The Blasco family spent the Spanish Civil War years in Madrid for being Pozuelo one of the most punished fronts. Upon returning, the difficult post-war years begin and, like many other families at that time, children with only 11 years of age need to work to help the family get ahead. After a few years, these children, brothers Pedro and Rafael Blasco, 14 years old, begin to work as apprentices in the small upholstery workshop of an extraordinary Galician craftsman and his wife.

Three years later, with 17 years old, they decided to settle on their own and started their own company in 1945.
Being still minors, their parents formalized the company in 1945 entering as partners and providing the initial resources. Those were the years of the reconstruction in Spain and the work of good craftsmen was in great demand.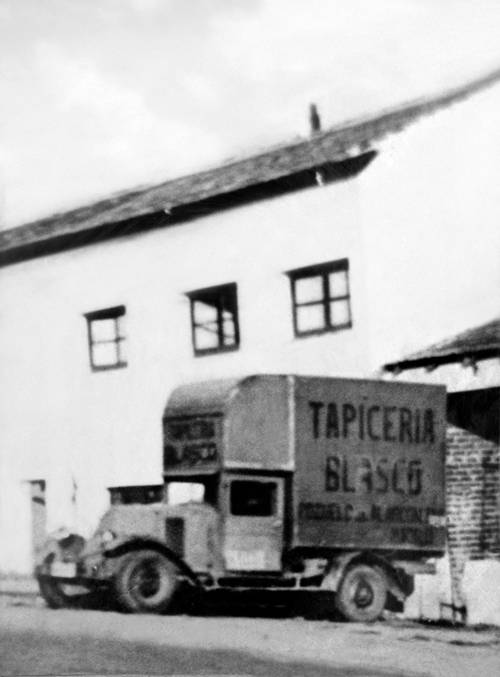 First truck, its box was made of wood.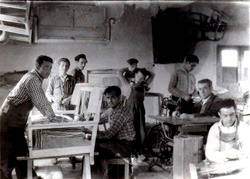 The first workshop was in a room of the family house, in Pozuelo de Alarcón, Madrid.
The company keeps growing and they built the first building which houses several workshops, the carpentry shop, the upholstery shop and the sewing workshop.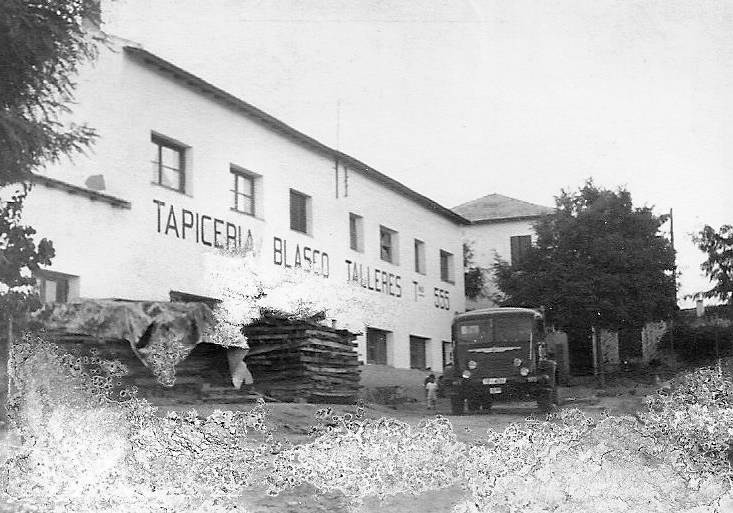 First building. Pozuelo de Alarcón, Madrid.
In the 60s, Pozuelo had several leader tanning factories and for that reason Blasco upholstery shop specializes in manufacturing upholstered leather furniture, becoming the 1st leather sofa factory in Spain.
Soon they began to have more customers, some furniture stores located in Madrid, and created their first collection with own designs.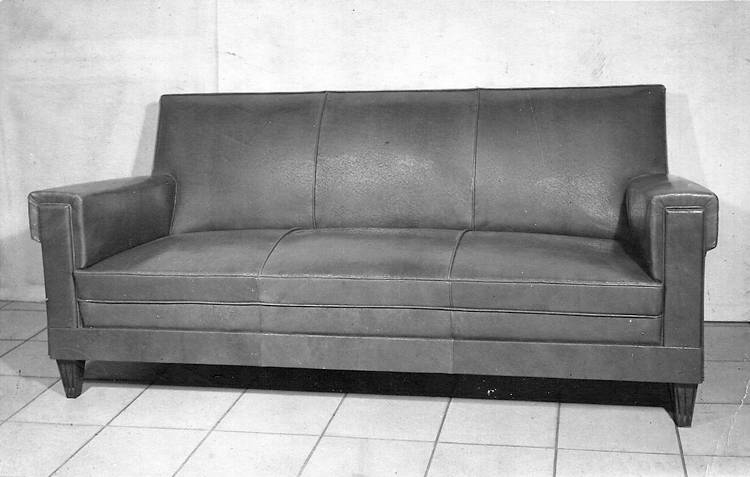 Picture of a sofa designed for the first Blasco catalogue.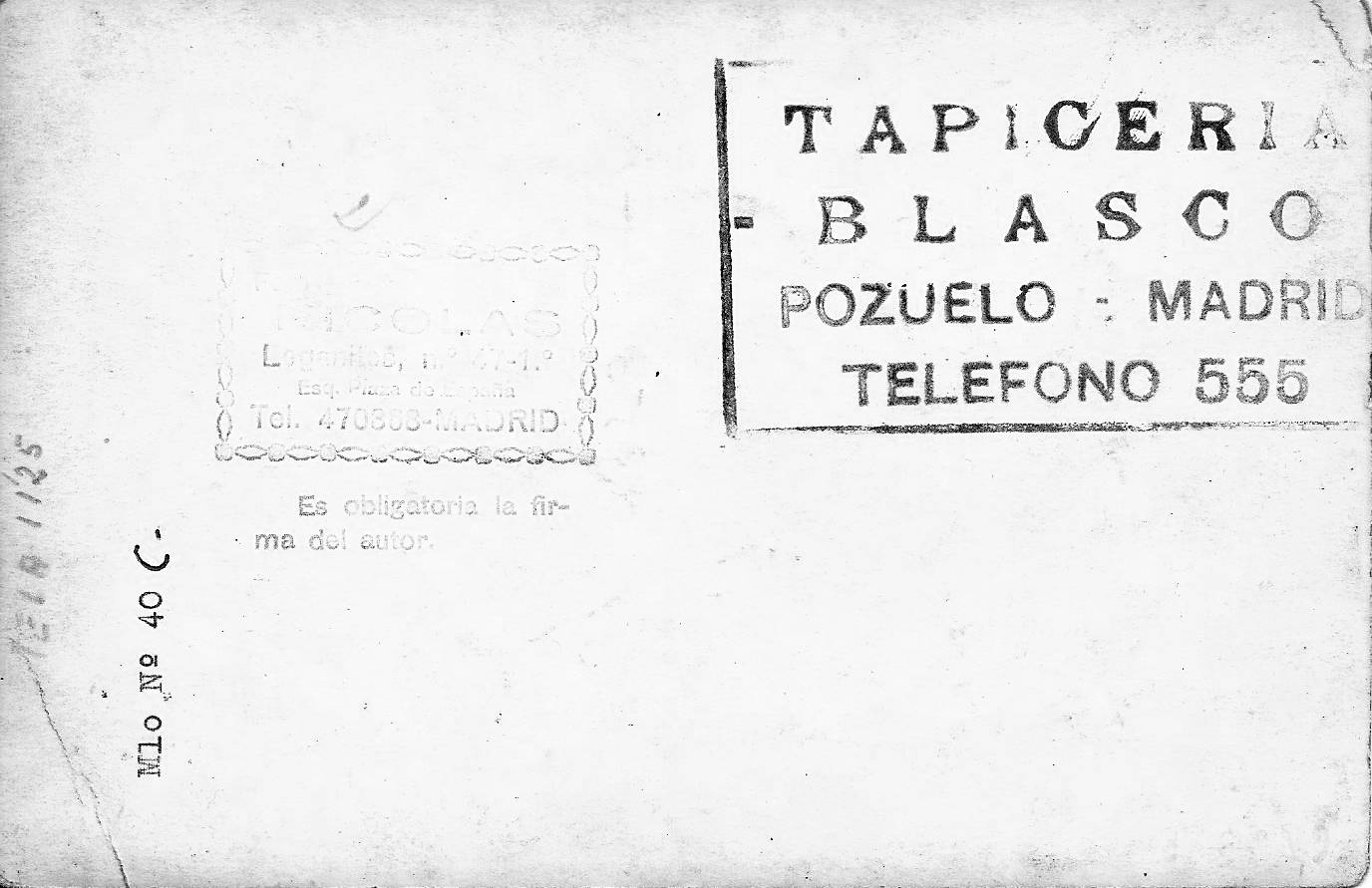 At the back of the picture, you can see the model reference and the necessary footage.
The small workshop became a factory, the small initial warehouse changed into various facilities and what was initially an upholstery shop turned into a carpentry and leather tannery factory thereby comprising the entire manufacturing process.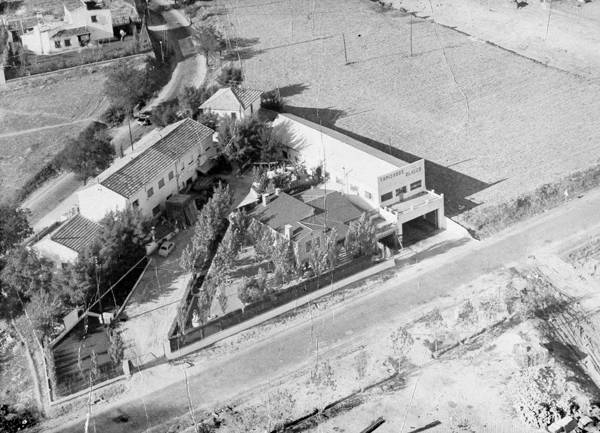 Aerial picture of Blasco facilities in 1967.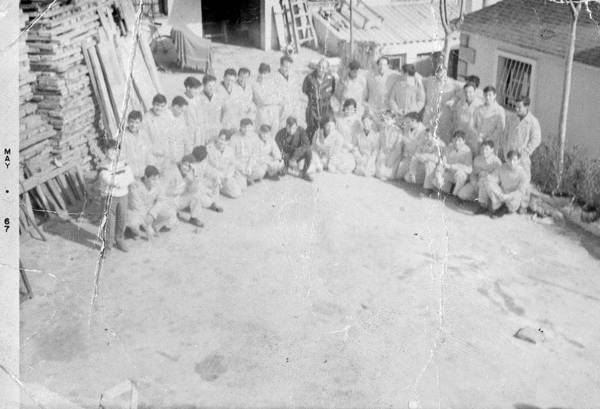 Blasco workers in May 1967.
New facilities were inaugurated adding 3000 m2 to the existing ones. A showroom and an interior design office were set up.
Siguió creciendo y ampliando sus puntos de venta a todos los rincones de España. De la calidad de sus muebles y de su condición de empresa pionera en el tapizado en piel se hicieron eco diversos periódicos y programas de radio de la época.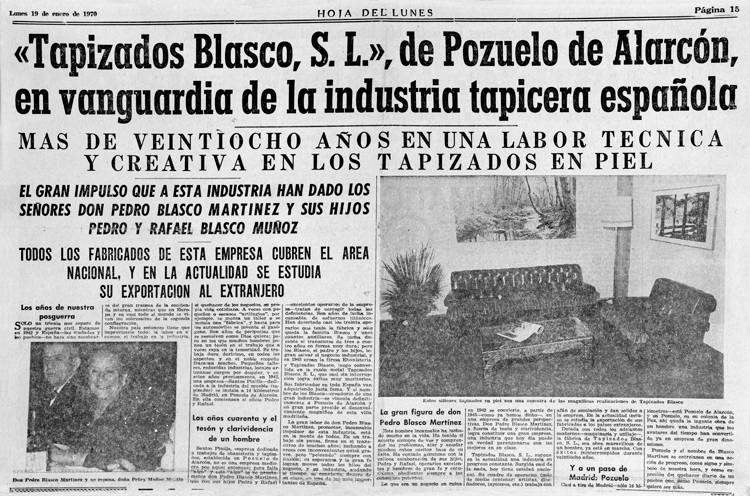 Newspaper "Monday Sheet" of January 19th, 1970. Below on the left hand side picture of the co-founding fathers.
We started exhibiting at the Furniture Fair in Valencia.
Years later 30 furniture manufacturing companies, including Blasco, founded the International Furniture Fair of Madrid.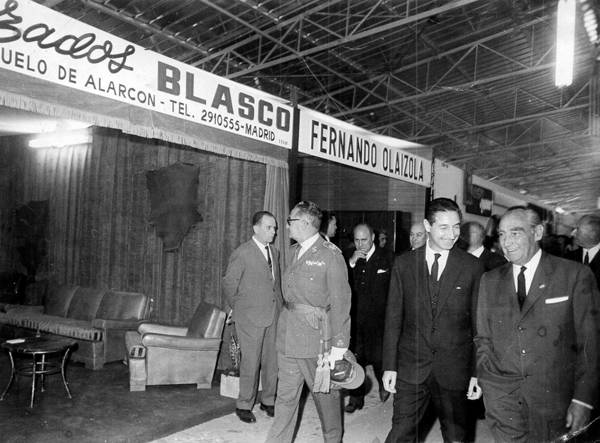 Stand in the fair of 1972.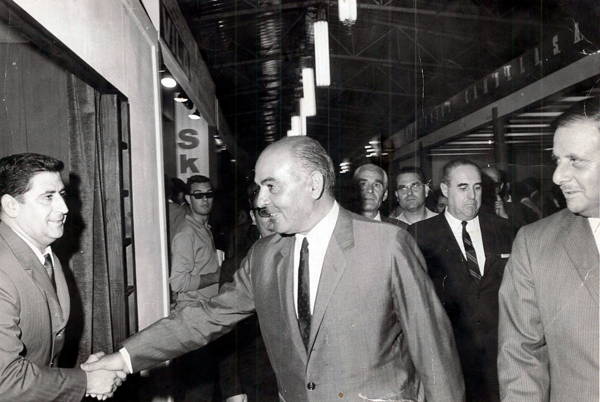 The Minister of Labor Mr. José Solís congratulates Mr. Rafael Blasco during the inauguration of the fair in 1975.

The exclusive finish of Blasco's leather designs, handmade aged following a special process, surprises that year at the Valencia Fair, therefore Rafael Blasco receives the Honorable Mention from the jury, that prize was considered the "Oscar" of the Furniture in Spain at that time.
Rafael Blasco receives the Honorable Mention from the jury, that prize was considered the "Oscar" of the Furniture in Spain at that time.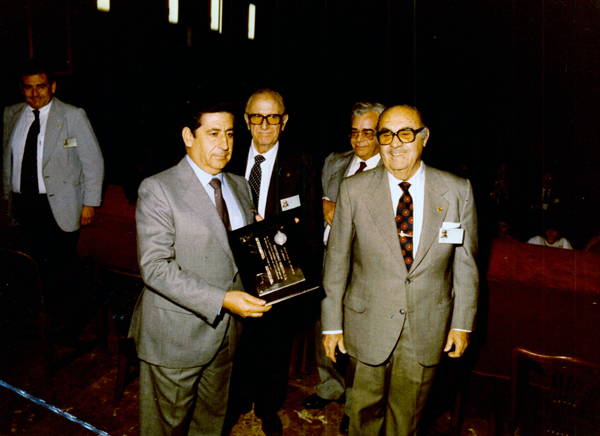 Mr. Rafael Blasco collecting the prize from the director of the fair.
Blasco entra de lleno en la mayor empresa de distribución de España, El Corte Inglés, que apuesta por nuestro producto con exposiciones en todos sus centros comerciales. En aquellos años colaboramos con E.C.I. haciendo publicidad en TV para promocionar su departamento de decoración y proyectos dando especial relevancia a nuestros productos. Durante varios años se convierte en nuestro principal cliente.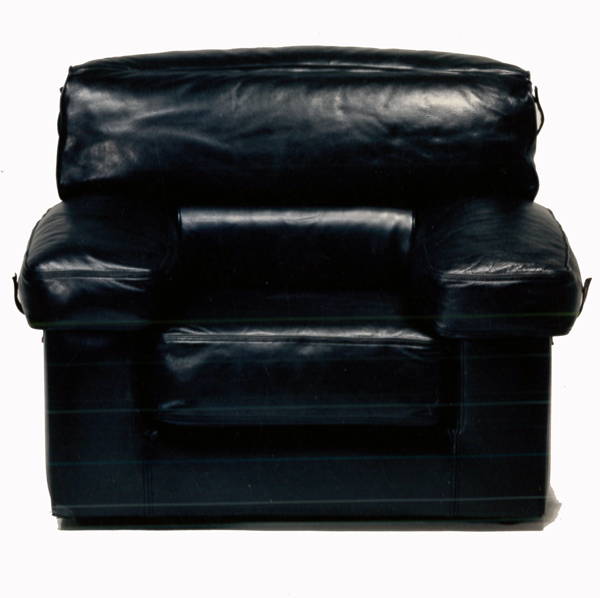 Model reference 792 from the collection named "The Contemporary". This collection was made with steerskins.

After 42 years as partners, the Blasco brothers, Pedro and Rafael, decide to separate. Pedro would continue with the furniture shop and Rafael with the factory.

In those years, emblematic purchase orders were executed for Spanish state organizations such as the Congress of Deputies, National Paradores, Ministries and Military Installations.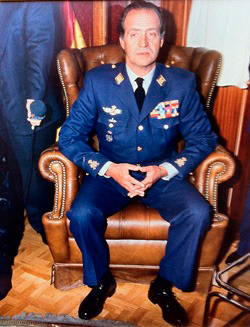 Picture of the King of Spain Juan Carlos I sitting in an old leather armchair of Blasco.
The economic and financial crisis of the 90s also reaches Blasco, the company needs new ideas to get ahead and it is time to open the way for the third generation. Jesús Miguel Blasco, the second of his children, decides to lead the change.
Con la nueva dirección llegan profundos cambios. Los nuevos diseños empiezan a estar pensados para fabricar con tela en lugar de piel y se abren nuevos canales de venta. Se diseñan y fabrican productos personalizados para los más exclusivos estudios de decoración de España y para empresas de distribución al por mayor como Becara, Casa & Jardín, Artespaña o Grupo 13 entre otros.
Blasco performs an upholstered furniture catalogue for the textile editor Gastón y Daniela (G&D) which boots our company at the end of the 90s and beginning of the new century.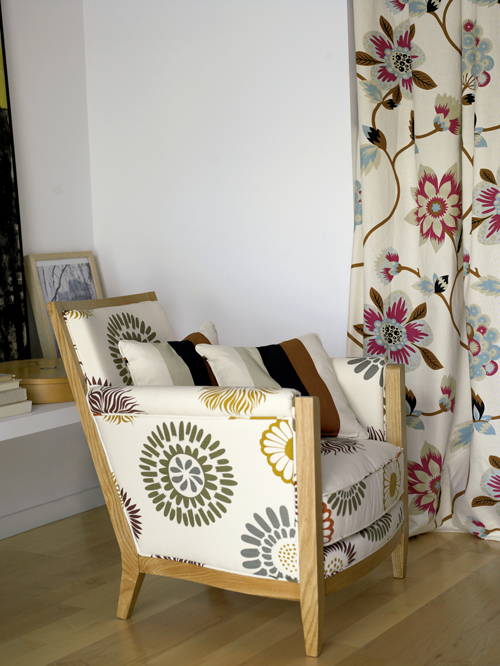 Butaca Chicago, uno de los modelos diseñados y producidos para G&D a finales de los 90.
We opened our own design studio and store, Villa Algodon, in one of the old buildings of Blasco in Pozuelo de Alarcón, years later this store would become a franchise of Gastón and Daniela.

We launched our first catalogue with designs inspired by the Japanese concept "wabi sabi" that had also inspired great decoration figures in France or Belgium. We introduced models such as the Liberty model in 2005 or the Odeon and St. Germain models presented in 2007 and 2009 respectively, today icons of our current catalogue. The collection was completed with several chaise longues, chairs and armchairs, all designed and made with linen covers.

Flyer made for the Interiorhome Madrid Fair. 2009 year.

Flyer made for the Interiorhome Madrid 2010 Fair.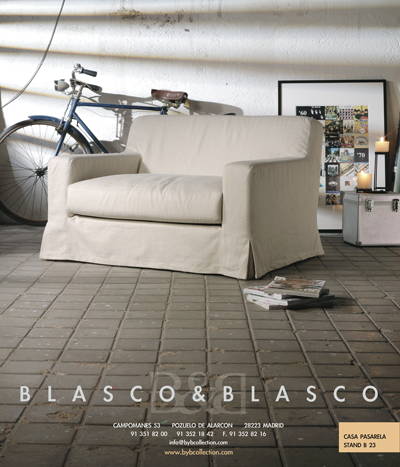 Ad made for Casa Pasarela Exhibition in 2007.
Blasco needs more space and in 2008 starts building new facilities in Villanueva del Pardillo, Madrid.
In 2010 Blasco moved the factory to its current location.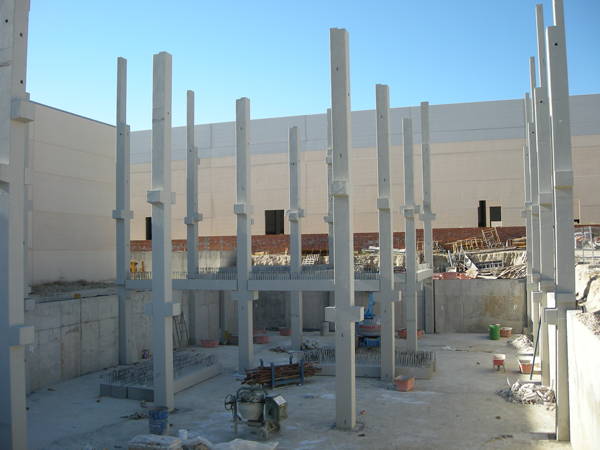 Start of the works of the current facilities, 2008 year.
Our collection of linens, initially created for the manufacture of our designs, mainly pre-washed slipcovers, grows by adding new references: velvets, jacquards, wool, prints ...


En 2012 Blasco se convierte en editor textil creando la primera colección de telas bajo la marca B&B Collection, que más tarde se convertiría en empresa independiente de Blasco con el nombre de Serendipity Fabrics.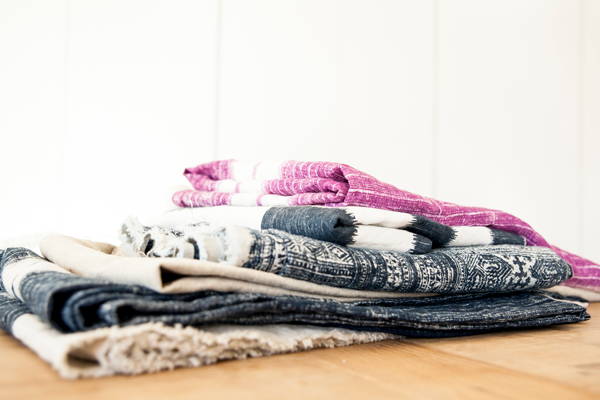 Colección de linos estampados a mano "Tribal" diseñado por B&B Collection en 2015. Hoy distribuidos por Serendipity Fabrics.
Blasco decides to expand its sales abroad convinced that its product will be very popular in Europe.
En enero de 2013 exponemos en la prestigiosa Feria Maison & Objet en París, Francia. La feria resulta ser un gran éxito y nos anima a repetir la experiencia durante 4 años más.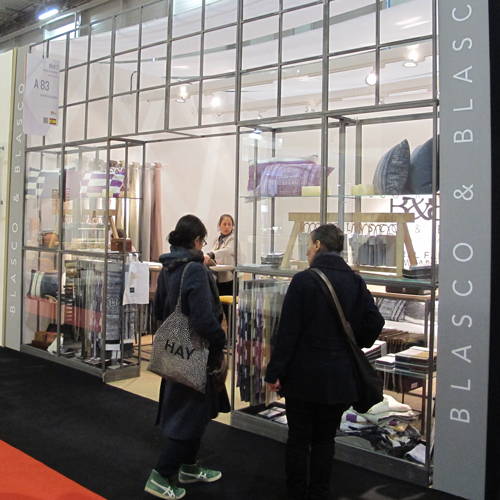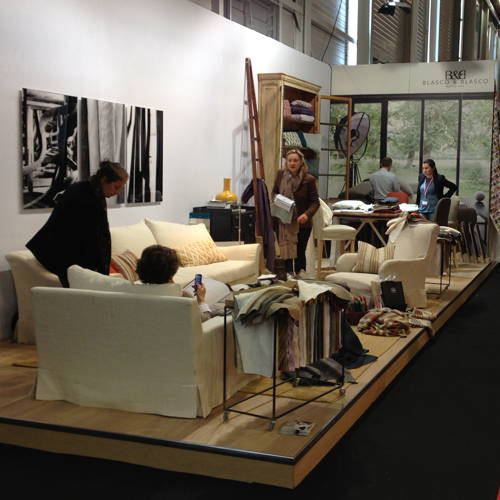 Primer Stand de M&O Paris. Año 2013.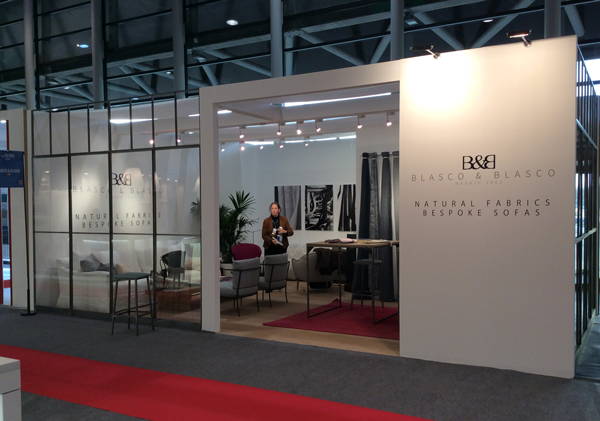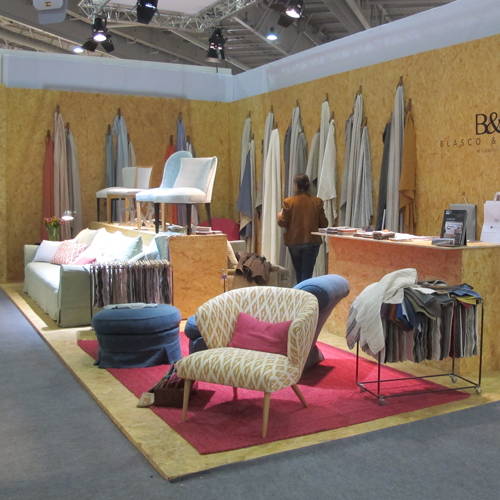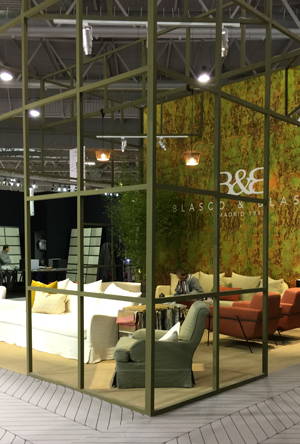 We expand our facilities to reach 3000 m2. Now Blasco has 900 m2 of showroom where we can show most of our collection.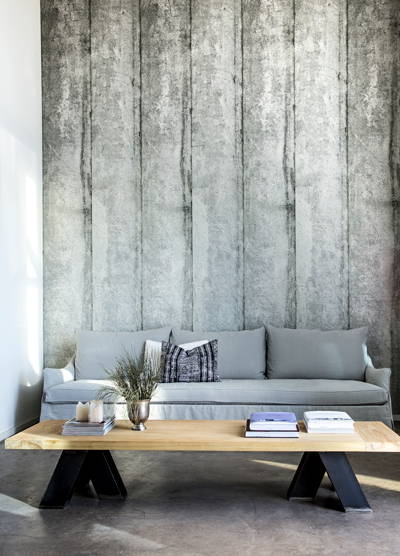 We turned 75 and redesigned our logo and graphic identity.
Timelessness is a fundamental characteristic of Blasco and its new graphic identity is based on it since since its inception, in 1945, it has remained true to its values ​​and designs. The hummingbird figure is used that symbolically reflects the passage of time and the future, as it is the only bird with the ability to fly in both directions.